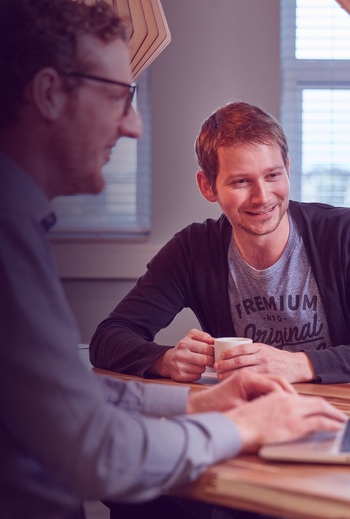 SSTeams
Developing software is a challenge. Every problem is unique and calls for its own approach. An efficient team structure together with the client boosts our chance of success.
working together
Successfully developing software - from start to finish and throughout the various phases - is a challenging process that requires multidisciplinary collaboration. In many cases, an inefficient team structure is to blame for a software project's failure.
There is a strong need for clearly defined roles and specific responsibilities for each role. This is not the same as a fixed hierarchical structure with clearly delineated tasks. We therefore form our own project team for each project to take on the challenge together.

Complex issues call for a tailor-made approach. For every challenge that our clients present to us, we therefore form a multidisciplinary project team. Our project teams are a sustainable solution to the growing need for effective development teams.
An SSTeam contains an ideal mix of technical expertise and personalities, tailored to the specific needs of the project. Many of our clients have already discovered what you can achieve by working with one of our technical teams towards a clearly defined goal in a short-cyclical manner.

What do most of our project teams look like? At its core, our project teams are made up of five roles. It begins with our Business Analyst, who maps out the project's technical and functional requirements. They do this e.g. during the Research Phase. Based on these requirements, our Software Architect will design the technical architecture of the software. This is done during the Design Phase.
Although our Business Analyst and Software Architect remain closely involved in the project during the Development Phase, it is our technical Project Manager who serves as our client's single point of contact. In addition to one or more Software Engineers, one of our Lead Software Engineers will always be involved in the development process to safeguard the project's technical quality.
We have been working together with many of our clients in this manner for years. Would you like to know more about how our SSTeams do things? Read about our method here.

No matter how complex an issue may be, we can come up with the right solution. The challenges our clients present to us allow us to realise progress and strive towards impact.
Would you like to know what we can do for you, are you looking for more information about our project teams or do you have a challenge for us? Contact us now by filling out the contact form below.